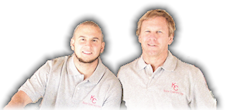 About Us
Dennis Kisch started Kisch Construction in the fall of 1981. Because of his love of the industry, his personal dedication and his integrity, Kisch Construction is still around today.
While creating commercial projects, custom homes and major remodels for their clients is deeply satisfying work, building Kisch Construction through word of mouth and referrals is what we are most proud of. Our philosophy is to integrate ideas, architecture and budget to design and create a quality project. Building is like a puzzle… "We take all the best ideas of each person involved and put the pieces together!"
Kisch Construction is currently being run by Dennis and his son Nick. Getting to know our customers, how they live and understanding what they want in a home is the core of every project. With each home or commercial project we work on, we start with a general idea and create from there. Our aim is to build the highest-quality product at the best price and deliver value and functionality to our customer
By some standards, Kisch Construction could be considered small. We feel this allows us to provide the quality we are known for. "We try not to be the biggest, just the best!" That follows in our choice of subcontractors. While we do the majority of the work ourselves, we do use a very select handful of subcontractors and we expect our high quality work to extend to their work and to that of the suppliers who provide the materials. Creating and building is hard work, but we also understand that our industry needs strong leadership to continue to grow. We try to get involved where we can and strive to make sure that our company and the industry in particular, will continue to create beautiful, high quality, affordable designs, so that our future is ready to be handed down.
In keeping with that philosophy, Dennis has held many positions for the South Dakota Home Builders Association, Lewis & Clark Home Builders Association and the National Home Builders Association. He served as the Legislative Committee Chair in 2004, National Director from 2006-2008, State President in 2005 and is currently serving on multiple committees for the Lewis & Clark Home Builders Association. Kisch Construction earned the distinction of being named Builder Member of the Year from the Home Builders Association in 2008. To have the honor to be recognized in this way by your peers only reinforces that Kisch Construction strives to continue their hard work and dedication in the industry.
"Every man owes part of his time and money to the business or industry in which he is engaged. No man has the moral right to withhold his support from an organization that is striving to improve the conditions within his sphere."
Teddy Roosevelt
Words to live by.
"Building is like a puzzle…We take all the best ideas of each person involved, and put the pieces together."
"He puts so much time, thought and effort into each project we do. Dad really does put his heart into the industry he loves so much."
Their combined passion for building custom homes and mutual respect for each other's talents are apparent in each project they build. It's called Quality & Integrity.